Mobile Banking

We are excited to announce a new mobile experience that includes the following upgrades:
A modern design and interface
New security features and settings
Biometrics for Android & iPhone users (Touch ID and Face ID)
The same features and functions you use today, but with an updated user experience
Watch your email for more information about the new app and when it will be available for download.
Important Notes:
NOTE: If you currently use Touch ID or Face ID to login, the first time you open the new app you will have to use your Access ID and Passcode. if you don't know your Access ID and Passcode, we encourage you to call us to have it reset before June 15th.

After your app is updated, you will be able to set up your Touch ID or Face ID again to resume using this convenient and secure way to access your mobile banking. We apologize for any inconvenience.
iPhone Users: Once the new app is released, the next time you launch the Cross Keys Bank iPhone App, the new app will automatically replace the old version if you have automatic updated enabled. Otherwise, you will need to go to the Apple App Store to manually update the app. The first time you login to the new app you will also be presented with the new Terms  Conditions to review and accept.
Android Users: Android users will be required to remove the old application and download the new version from the Google Play Store.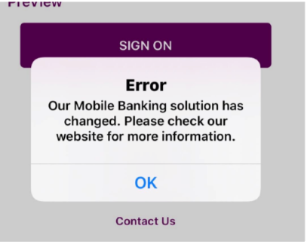 SMS/Text Users: The number that you use to send and receive SMS messages has been changed to 415-610-4592. Due to laws that require users to manually opt-in to receiving text messages from a new number, you will have to re-enroll in the service through online banking. Enrollment in SMS/text banking does not require you to have the mobile app.
Notify Me Alerts: All Notify Me Alerts (account activity alerts, messaging alerts and security alerts) will be delivered via longcode number: 619-724-5009.
Mobile banking gives you secure on-the-go management of your accounts, so you can check balances, transfer funds, get account updates and even deposit checks. Use the app to find a branch or ATM and even get driving directions.
Bank by phone app, text banking or mobile browser - anywhere, any time and any way you want.
With Cross Keys Bank Mobile Apps, you can complete a full range of banking transactions all from the convenience of your mobile phone. Simply download the mobile app and log in with your Cross Keys Bank Online Banking User ID and password.
The CKB Mobile App Allows You To:
Check balances

Check transaction history

Check account details

Make loan payments

Pay a bill

Transfer money

Check payment history

Find Branch and ATM details
*Deposit checks up to $25,000.00. Dependent upon the autofocus capabilities of the device camera.
i

Phone App

Android Phone App
Mobile Browser
Text Banking (any phone with SMS)
Mobile Banking FAQs
Q: How do I enroll for Mobile Banking?
A: You must download the app from the app store and follow the online instructions for your specific device. 
Q: What is the fee for Mobile Banking?
A: CKB Mobile Banking is a complimentary service that we provide to Cross Keys Bank customers. However, there may be charges associated with text messaging and data usage on your phone. Check with your wireless phone carrier for more information.

Q: What accounts can I access with Cross Keys Mobile Banking service?
A: Cross Keys Mobile Banking allows you to access any of your accounts available for access within Online Banking.

Q: What is Touch ID? 
A: Touch ID is fingerprint authentication technology for your Apple or Android device. (You must still use your passcode to access BillPay).

Q: What is Text Banking?
A: Text Banking gives you access to your accounts via text (SMS) messages on your phone. It's a fast, easy way to look up account balances or recent account history by sending a text command to a longcode. How to activate Text Banking
Q: What is the CKB Text Banking longcode?
A: All Text Banking text messages should be sent to 415-610-4592
Q: Can I use both Text Banking and Mobile Banking on my phone?
A: Yes, you can use both options from the same phone. To do so you will need to activate each option on your phone prior to use.

Q: Will I receive unsolicited text messages?
A: No. You will only receive messages when you specifically request them with one of the Text Banking commands or if you subscribe to Notify Me Mobile Alerts.

NOTE: You can check for additional available commands by activating your phone and sending C to 415-610-4592.