See the World:
Join the Cross Keys Travel Club
The Cross Keys Travel club has made eight trips and taken 103 people more than 49,828 miles since our first trip in April, 2013. Everyone is invited to join. There are no qualifications for membership.


In August of 2017 the Cross Keys Travel Club will visit Alaska and The Yukon. Surround yourself in unspoiled landscapes, ancient glaciers and an array of wildlife on your Alaskan and Yukon adventure.



Highlights:
Anchorage, Tok, Whitehorse, Skagway, Dawson City, Top of the World Highway, Fairbanks, Sternweeler Cruise, Denali Dinner Theater, Tundra Wilderness Tour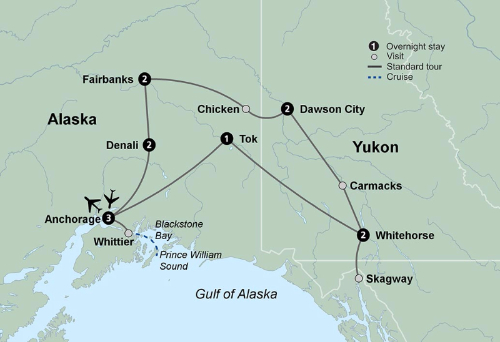 For more information contact:

Jim Cuthbert
318-237-5833 or
Australia - Europe - North America - South America - Antarctica - Asia - Africa
Collette Vacations offers more than 200 escorted itineraries to 52 countries on all seven continents, and a growing list of Independent vacations to Canada, Europe, the U.S. and Australia. 
Collette is committed to creating vacations for life - life-enriching experiences for all ages.