See the World:
Join the Cross Keys Travel Club
The Cross Keys Travel club has made ten trips and taken 153 people more than 59,234 miles since our first trip in April, 2013. Everyone is invited to join. There are no qualifications for membership.


In August of 2018 the Cross Keys Travel Club will visit Switzerland, Austria & Bavaria. Journey through spectacular mountain scenery and picturesque cities as you experience the enchanting Alpine cultures of Switzerland, Austria and Bavaria.



Your tour - at a glance:
Ride the GoldenPass Panoramic Train from Montreux to Gstaad.

Walk the halls of the legendary, medieval Château de Chillon, located on the shores of Lake Geneva.

Witness the musical tradition of Austria during a Tyrolean folklore show.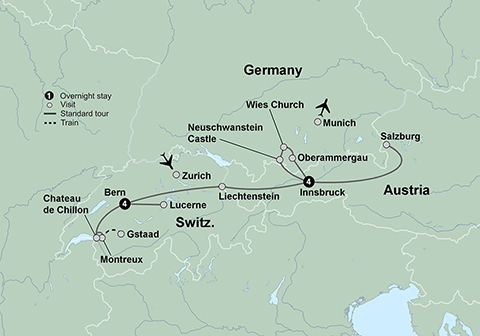 For more information contact:

Jim Cuthbert
318-237-5833 or
Australia - Europe - North America - South America - Antarctica - Asia - Africa
Collette Vacations offers more than 200 escorted itineraries to 52 countries on all seven continents, and a growing list of Independent vacations to Canada, Europe, the U.S. and Australia. 
Collette is committed to creating vacations for life - life-enriching experiences for all ages.