Credit Cards
Our consumer credit card products offer competitive pricing combined with a full range of reward options - making it easy to select and apply for the card that meets your needs.
Consumer Card Benefits
Consumer credit card holders receive a variety of exceptional benefits including the following: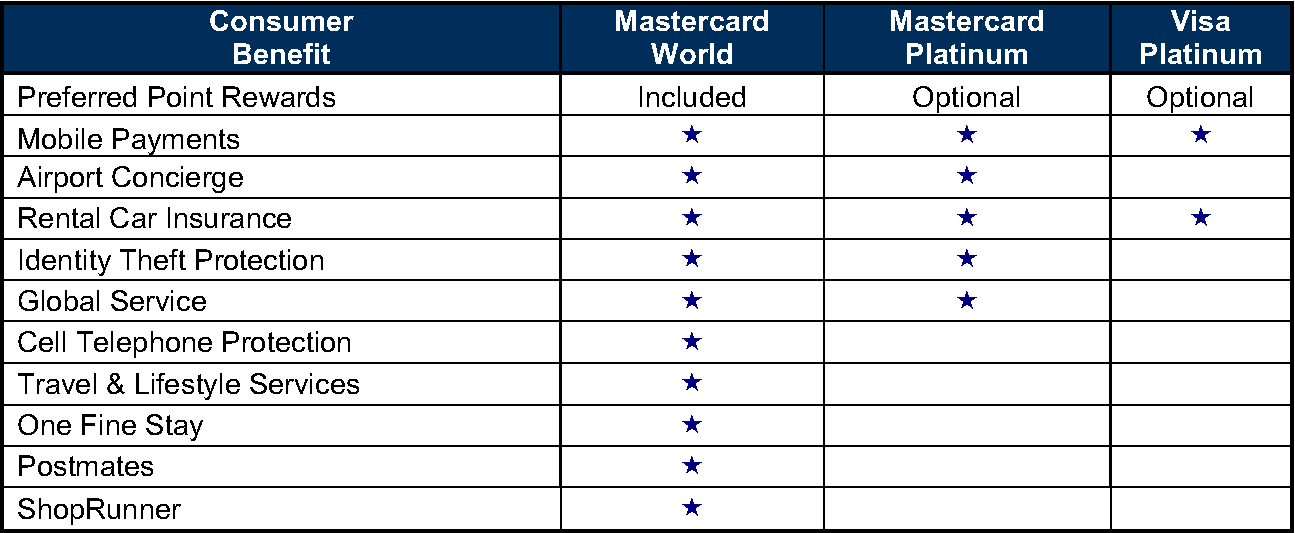 Preferred Points Rewards
Earn one point for each dollar spent, up to 10,000 points per month. Redeem anytime for a wide variety of options including cash back, travel, merchandise, retail gift cards and much more.
Mobile Payments
Use your compatible Apple or Samsung device to shop and check out wherever mobile payment logos are displayed. All MasterCard and Visa consumer cards can now be easily linked to an Apple or Samsung device to pay at retailers everywhere.
Airport Concierge
Enjoy savings on Airport Meet and Greet Services. Arrange for a dedicated Meet and Greet Agent at over 700 airport destinations worldwide. Certain airports include expedited security and immigration services.
Rental Car Insurance
Pays for covered damages (physical damage and theft) to a rental vehicle when your eligible card is used to initiate and pay for the entire rental transaction.
Identity Theft Protection
Be protected with ID Theft Resolution Services including online identity monitoring, resolution services, credit bureau monitoring and more.
Global Service
Provides 24-hour global assistance with lost or stolen card replacement and emergency cash. Toll-free numbers for assistance can be found at www.mastercard.com or by calling 636-722-7111.
Cell Phone Protection
Cell Phone coverage for your personal cell against damage or theft provided you charge your monthly Cellular Wireless Bill to your credit card.
Travel & Lifestyle Services
Access to a suite of benefits, amenities and upgrades including premium travel offers from best-in-class travel companies. Wither you are planning a last minute vacation or your dream getaway, a lifestyle manager will assist you at your convenience 24 hours a day. Plus, take advantage of MasterCard's lowest hotel rate guarantee and hotel stay guarantee.
One Fine Stay
Access to over 10,000 high-end rental homes around the world stocked with fine linens, towels, and toiletries. Receive a discount on all stays and free WiFi and a complimentary cell phone to use during your stay with free data and local calls.
Postmates
Food, drinks and groceries available for delivery or pickup in over 650 cities across the U.S. and Mexico! Save time and money shopping.
ShopRunner
Free 2-day online shipping and returns at over 140 stores including Neiman Marcus, American Eagle, Calvin Klein, 1-800-Flowers, and more.
Certain restriction apply to each benefit listed. Benefits are detailed in the applicable benefits brochure provided with new and reissued credit cards or call us at 800-443-2819.


Questions/Inquiries
If you have questions concerning card benefits, please feel free to contact us at 800-443-2819 or
banksupport@tib.bank
. 
24-hour toll-free live customer assistance available at 1-800-367-7576

Online account information available 24/7 at www.cardaccount.net .

To Apply Now
Download the PDF application .

Type the information and then print the application (you cannot save the document, so print an extra copy for yourself), or print it and then complete it using a blue or black pen. Paper applications are also available at your local branch.

Fax your completed application to the Card Service Center at 877-809-9162.

*Please see application for information about current APRs and fees.

Cross Keys Bank Personal Credit Card issued through The Independent Bankers Bank (TIB).