SBA Coronavirus Emergency Loans
The Small Business Administration (SBA) Paycheck Protection Program provides 100% federally guaranteed loans to small businesses. These loans may be forgiven if borrowers maintain their payrolls during the coronavirus crisis or restore their payrolls afterward. As an SBA preferred lender, Cross Keys Bank is prepared to assist our customers with the application. Use this resource to determine your business's eligibility and what documents you should have available for the application process:
Latest Updates on Coronavirus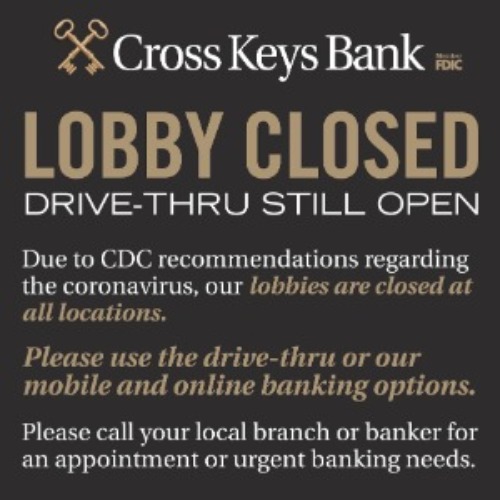 At Cross Keys Bank, our employee, customer and community welfare is important to us. As the Coronavirus (COVID-19) continues to disrupt life in parts of the United States, we feel it is critical to let you know about the proactive steps Cross Keys Bank is taking to keep employees and customers safe and share information with you to help protect yourself as the situation evolves.
Hand-sanitizer is available in lobby areas for customer and employee use. All public spaces within Cross Keys Bank facilities are being cleaned regularly.
Employees have been provided with information on how to stay healthy and how to avoid illness through proper hygiene practices. Employees are instructed to stay home when they are not feeling well.
We have assembled a team to meet frequently to review, monitor and adjust operations as the situation changes to ensure continuation of critical business functions.
For customers, we recommend the following:
You can access your accounts online at www.crosskeys.bank or by using the Cross Keys Bank mobile app. We encourage you to use these options for your everyday banking needs. From there you can pay bills, make deposits, view transactions, check balances, transfer funds, and even send money to someone using their mobile phone number or email address. Our employees are able to help you activate (or help you use) these digital banking services, by calling: 1-888-766-3246.
If you are not feeling well, we encourage you to avoid unnecessary trips to the bank. If you need assistance with a banking issue, please call our banking customer service agents at 1-888-766-3246.
Please make sure your mobile phone number, email address and mobile banking alerts are up-to-date for all of your accounts. This will also help if we have to contact you quickly about your account. Call 1-888-766-3246 for assistance updating this information. Note: Additional security questions will be asked to make changes.
As you conduct transactions at ATMs, at payment terminals (using your debit card) or when using cash, it is recommended that you should avoid touching your face (eyes/nose/mouth) after completing a transaction and wash your hands or use hand sanitizer as you would have being in any public space. Sanitize your debit card and mobile phone regularly.
Beware of scams and criminals using fear/intimidation, trickery, urgency or disinformation related to the coronavirus (COVID-19) to attempt to steal your sensitive, personal or account information. Watch out for strange calls, emails, texts or websites that look like they are coming from legitimate businesses or government agencies asking for information like SSN, usernames/passwords (login info), account numbers, credit or debit card numbers, PINs, etc. Cross Keys Bank will never request such information through email/text/outbound calls. Always check your account statements for official websites and customer service numbers and call those number directly rather than giving out information over the phone/email/text.
More on this:
Cross Keys Bank continues to monitor the situation using information from trusted sources including the Center for Disease Control (CDC), the World Health Organizations (WHO), banking agencies/regulators and state/local health agencies.
Please call 1-888-766-3246 with any banking questions or if you need assistance with specific banking activities.


Rayville Branch Grand Opening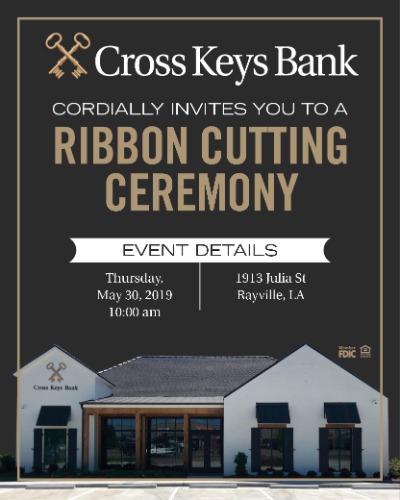 Shreveport Branch Grand Opening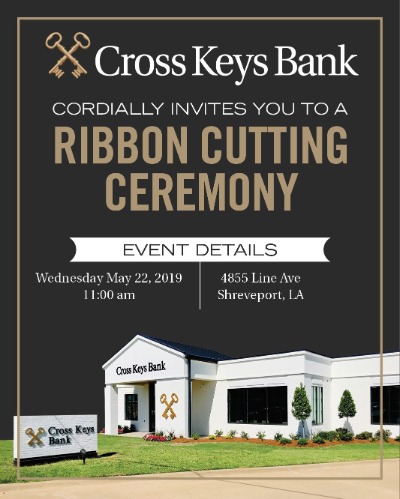 Rayville Branch Opening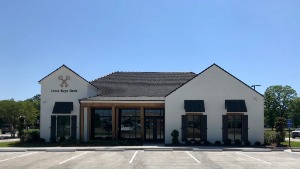 Our Rayville Branch opened it's doors in August 2003 at 1913 Julia Street. Sixteen years later Cross Keys Bank is proud to showcase its "new" branch in the same location! This location will offer the very best in traditional banking services with residential mortgages, consumer, commercial and small business loans, agricultural loans, and deposit services. We also have a full service Insurance Agency, along with the latest and greatest E-banking technology to make it easier than ever to bank with Cross Keys Bank! Please visit our website at
www.crosskeys.bank
 for more information.
Shreveport Branch Opening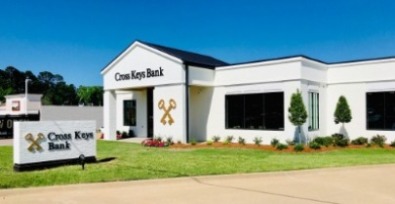 Our Shreveport Branch has proudly relocated to its new location at 4855 Line Avenue. Cross Keys Bank opened it's first branch in Shreveport in May 2014. The Shreveport branch offers consumer, small business, and commercial loans and deposit services. Please visit our mortgage originators located in the branch for any of your home purchase or refinance needs. Remote Deposit Capture, Cash Management, and Merchant Services are just some of the products offered by our E-Banking Department. Please contact our knowledgeable staff at our Shreveport location for more information or visit www.crosskeys.bank.